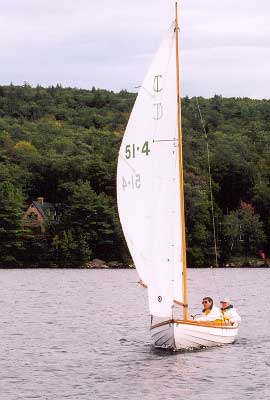 We created and launched the first Townie in 1932. Since then we've built another two thousand more. One reason this 16-1/2' lapstrake centerboard sloop is so popular is that it's both a great family daysailer and fun racing boat. It's also beautifully built, if we do say so ourselves. (We make them in fiberglass now, too.)

LOA: 16'6"; Beam: 5'9½"; Freeboard: 21"
Draft: Centerboard up 7", down 28"
Sail area ~152 square feet
Approximate weight: wood 630 lbs, fiberglass 800 lbs
Stem, Skeg, and Frames: oak
Stern: mahogany
Planking: 5/8" white pine and 7/8" pine rabbetted bottom
Fastenings: bronze bolts
Trim: mahogany
Deck: canvas covered marine plywood over oak carlines
Mast and Boom: solid Alaskan Sitka spruce (24' and 12')
Centerboard: 52 lb. brass adjustable
Hardware: stainless steel standing rigging, all bronze fittings,
5/8" stainless steel sail track, Dacron running rigging
Sails 3.9 OZ. Dacron
Extras: copper riveted cockpit cover, whisker pole,
tilt-up rudder
Return To Custom Wooden Boats