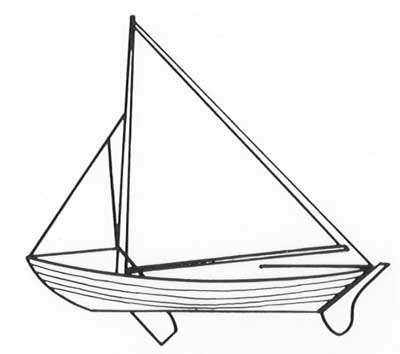 Our 17 foot version of the Swampscott Dory has more beam and one more plank per side. She's very similar to those Coast Guard surf boats, and it's available in sail or rowing rigs. A splendid boat.

LOA: 17'; LWL: 12'; Beam: 4'8"; Freeboard: 20"
Draft -rowing model or centerboard up 6", down 20"
Sail area: ~74 square feet
Approximate weight: 400 lbs
Stem, Skeg, Stern and Frames: oak
Planking: 5/8" white pine and 7/8" pine (bottom)
Fastenings: bronze bolts
Trim: oak
Centerboard: oak
Mast and Boom: solid Alaskan Sitka spruce (14' and 10'9")
Hardware: bronze oarlocks on rowing model;
sailing model: all bronze fittings, 5/8" stainless steel
sail track, Dacron standing and running rigging
Sails: 3.9 oz Dacron
Extras: oars
Return To Custom Wooden Boats